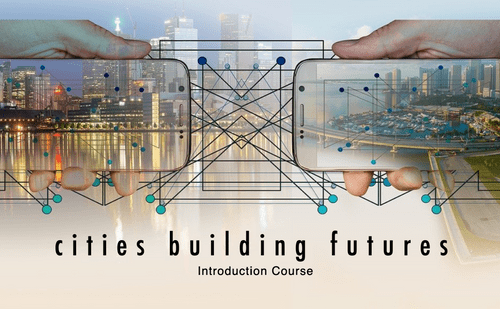 Training in Smart Cities Design
CREA IDEA LAB promotes new frameworks for city planning and technological adoption in cities.
This short course will offer you the skills to include this new framework in your city development strategy, and equip you with the tools to develop a road map for implementation.
DURATION: 40 hours
MODALITY: webinar
FOR: public administration, policy makers, business executives
WHEN: Every March and September
Add to cart
More Details
Skills developed during the course: practical skills in frameworks, general understanding about impact economy, new technologies and applications, new economic realities.
Industries: Supply-chain, Manufacturing, Commerce, Smart cities, Design, Smart Mobility, Communications, IoT, Smart cities
Course curriculum:
MODULE 1: SMART CITY BRAND
Smart City Brand.
Legacy Approach.
OpenExO Framework.
City Anatomy Approach.
MODULE 2: SHAPING THE FUTURE
Indicator's Framework.
Impact Framework.
The impact of technology.
Control & Automation.
MODULE 3: INTEGRATED SMART INFRASTRUCTURE
Technology selection & integration.
Unified Data Model.
Unified Stakeholders Model.
Integration Decision-Making Framework.
MODULE 4: SMART URBAN ECONOMY
Traditional industries & Digital Transformation.
Circular Cities.
Virtual Economy.
Robotized Industries.
Urban Entrepreneurs & The Future of Work.
×
Privacy Policy
PROTECCIÓN DE DATOS Y POLÍTICA DE PRIVACIDAD

CREA IDEA LAB, como encargado del tratamiento, se compromete a respetar y cumplir sus obligaciones que emanen de las Leyes de Protección de Datos, conforme a la Ley Orgánica 15/1999 de 13 de Diciembre, de Protección de Datos de Carácter personal, el Real Decreto 1720/2007 de 21 de diciembre, y cualesquiera otras disposiciones que sean aplicables en cada momento a las presentes Condiciones así como a los Servicios prestados.

CREA IDEA LAB se compromete a no aplicar o utilizar los datos de carácter personal tratados o aquellos a los que hayan tenido acceso durante la prestación del Servicio, con fin distinto al que figura en el presente Contrato, ni a cederlos, ni siquiera para su conservación, a otras personas. El Prestador aplicará a los datos que trate por cuenta del Cliente, las medidas de seguridad establecidas en el Real Decreto 994/1999, Reglamento de Seguridad, en virtud del tipo de datos que trate. Una vez finalizado el Servicio, y transcurridos tres meses, deberá eliminar íntegramente todos los datos del Cliente y no guardará ninguna copia de los mismos. Las Partes responderán una frente a la otra por los daños y perjuicios que puedan derivarse del incumplimiento de esta obligación.

El cliente autoriza y acepta que CREA IDEA LAB podrá introducir sus datos personales, su nombre y demás detalles incluidos en el Formulario de Contacto, en un directorio fichero informático, cuyo responsable y titular es CREA IDEA LAB, para uso interno y con la finalidad de facilitar a CREA IDEA LAB la prestación de los servicios, salvo que el cliente dé instrucciones concretas por escrito al contrario, entendiendo que la cumplimentación del citado Formulario implica su
consentimiento para llevar a cabo dicho tratamiento. La persona física que consta en el Formulario de Contacto tiene la posibilidad de ejercitar sus derechos de acceso, rectificación, cancelación y oposición, en relación con sus datos personales, mediante el envío de correo electrónico a askme@hybridspace.me.

CREA IDEA LAB emplea cookies o ficheros de actividad que, alojados en el ordenador del usuario, se utilizan para ofrecer al usuario una navegación más ágil evitando solicitar datos que este ya suministró anteriormente, así como para analizar el comportamiento del usuario de forma agregada y anónima sobre el número de visitantes periódicos, preferencias de los visitantes por unas páginas sobre otras dentro del mismo Sitio Web, etc. Con el fin de conocer cuántas visitas recibe el sitio web, de dónde proceden éstas y otra serie de datos de navegación. CREA IDEA LAB hace uso de la herramienta Google Analytics, un servicio analítico de web prestado por Google, Inc., una compañía de Delaware cuya oficina principal está en 1600 Amphitheatre Parkway, Mountain View (California), CA 94043, Estados Unidos ("Google") y que utiliza "cookies".

La información que genera la cookie acerca del uso del Sitio Web (incluyendo la dirección IP) será directamente transmitida y archivada por Google en los servidores de Estados Unidos. Según determina Google, Google Analytics se rige por las condiciones generales de Google accesibles en http://www.google.com/analytics/tos.html y la política de privacidad de Google accesible en http://www.google.com/privacy_ads.html#toc-faq. 

El usuario, mediante la configuración del navegador que tiene instalado en su terminal, tiene la posibilidad de seleccionar qué cookies desea aceptar y cuales rechazar.

El usuario tiene en cuenta que, si deshabilita las cookies es posible que tenga problemas en el acceso y navegación en la web así como en la contratación de nuestros servicios.